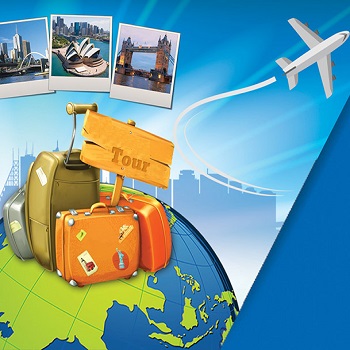 Everyone loves to travel. And, when they travel they want it to be a comfortable and smooth one. They will spend money on that!
Whether they going on a planned holiday in the jungles, or learning to surf on the gliders, or touring one of the best hill stations in the world, tourists offer direct money-making opportunities for the tour operators. And, for remaining commercially viable, these 'extra' amount could bring an exciting opportunity for making some additional revenue.

Tourists are your clients and to attract them towards your business, you need to make yourself found! How can you do this?
1. Highlight your business for the travelers
Make your website enriched with adequate content, message, and functionality. Clear contents with professional images are needed. The company message should be properly conveyed like what you want to do or what you expect from your clients. Your website should be properly functional from every aspect like having a clear path for making an inquiry or do the booking. Your official website is the face of your business and you should make your 'first impression' attractive enough.
2. Embrace social media
Making a strong footmark in the world of social media is necessary for growing a thriving and successful business in this era. Why? Because social media is the platform where you can create your desired community of people who really like your service and will provide promotional testimonials, who can give you important feedback recommended for your business improvement, and to whom you can offer promotional and discount coupons as incentives. The last one is a core factor for attending more visitors on your page.
3. Identify your target audience
You should not target those visitors on your official web page who are either young or old, because you cannot expect them to be adventurous at their age. However, with the proper approach, you can make exceptions from the old generations. You should understand their interests, provide reasons to them for buying your experience, and understand ways to motivate them to have a relaxing, amazing, or thrilling tour. Use your marketing channels properly. Know your target audience as it is the only key to have increased bookings.
4. Honesty
Trust is the pillar in any relationship, especially when you are paid to offer services. Everyone likes to buy something from their trusted sources. So, you need to be friendly to your clients and the positive vibes should reflect from your side. You should speak in a known language of your client to clearly convey your services. Be helpful to them in terms of providing directions, recommendations, etc. And, last but not least, listen to them. You should ask them to write feedback at the end of their tours. If your customers are happy with your services, only then they will recommend your services to their friends.
So, to become the best holiday tour operator in Guwahati, you need to fish where the fish really is. You are sure to win!
This entry was posted on November, 05, 2020 at 13 : 04 pm and is filed under Tour Packages. You can follow any responses to this entry through the RSS 2.0 feed. You can leave a response from your own site.